Selma Auto Mall
In planning of the Selma Auto Mall in the early 1990's, Dwight G. Nelson, a life-long Selma resident and owner of his family's 83 year-old construction company, Lewis C. Nelson and Sons Inc., felt "In a community like this you have to do business differently. We looked at other car dealerships and what other people had done and we decided to do something we had never seen anyone else do." Dwight Nelson has always been a visionary and a builder at heart.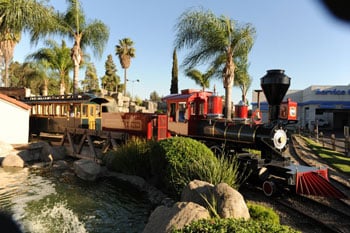 That was the idea Nelson had as he planned his auto mall in the early 1990s. Like the community in which he lived, he wanted a friendly culture and relaxed atmosphere in his stores. "In a community like this, you go to the grocery store and you know the clerks," Nelson says. "And the people there, they know your family. You have to do business differently."
His thinking? Sure, the whole city could file into a small stadium, but within a 40-mile radius - encompassing Fresno to the north and Visalia to the south - Nelson knew he had over 2 million potential customers. He needed a gimmick to draw them, though. That's where brainstorming with industry professionals and construction expertise took over.
Building came naturally to Nelson. He built a scale model of what he envisioned as Selma Auto Mall to solicit automakers. "I put it in a minivan and drove down to Torrance, visiting Nissan, Toyota and a few other manufacturers," he says.
In 1994, Nelson christened his current site with a Honda store. In 1995 he moved his Chevrolet franchise from a nearby location to the same campus and added a Mazda store. He landed Nissan, Hyundai and Suzuki. Also, Kia Motors America Inc. signed Nelson when one of their zone managers saw the Auto Mall's sign from Highway 99. "He stopped in here, took a look around and asked if we wanted a Kia store," Nelson says, "just like that."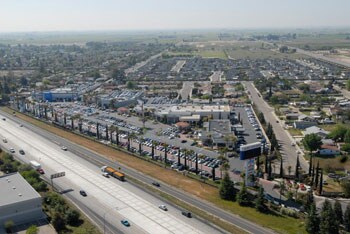 Since then, Nelson has added Mitsubishi, built a new Honda image dealership, and expanded across highway 43 with a new Nissan image dealership and single point Hyundai dealership. The most recent expansion comes after a fifteen year committed attempt to secure the Chrysler Dodge Jeep Ram brands for Selma. This is Nelson's second Chrysler Dodge Jeep Ram dealership, after his acquisition in 1991 of Liberty Chrysler-Plymouth-Dodge-Jeep in Hanford, California (now Hanford Chrysler Dodge Jeep Ram).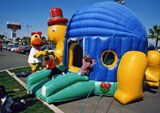 Today, his vision of a family oriented wheeled wonderland continues to serve thousands of customers monthly with an automotive shopping and service experience unlike any other. The massive Selma Auto Mall is the largest auto mall from the Sacramento area down to Los Angeles and has been a recognized leader in the National Automotive News Magazine and many trade publications. Selma Auto Mall is truly a family oriented facility with an 80-passenger replica of a 1880s steam locomotive chugging slowly around a 20-acre fenced car lot, complete with two tunnels, koi ponds, waterfalls, and bounce houses. Selma Auto Mall offers a unique shopping experience not offered by any other dealer in the Valley.
Said Nelson: ″I'm a dealer, and we're a family of builders; it seems to work for us.″